Residential Electrician diagnoses electrical problems and fixes them in homes and other buildings. These skilled professionals install and replace wiring and other electrical components.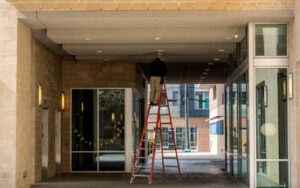 They may work on new construction but are mostly called to repair or update existing wires. A good residential electrician is reliable, courteous, and respects customers' privacy when completing tasks at their homes.
An electrician is a skilled tradesperson who installs and repairs wiring, electrical systems, and other components in residential homes. This can include new construction and remodeling, as well as repairs to existing wiring or fixtures. Residential electricians work for electrical companies or on their own as contractors. Many states have strict education and licensing requirements for electricians. The skills needed to become a qualified residential electrician are extensive and often require years of training and hands-on experience.
An understanding of the National Electrical Code (NEC) and local building codes is essential for a residential electrician. They also must understand OSHA safety standards and be able to effectively communicate with customers, especially when determining the root cause of problems. Other important qualifications for a residential electrician include the ability to read and interpret blueprints and a strong working knowledge of various hand and power tools.
Residential electricians must be able to identify and troubleshoot problems with existing wiring. This can involve crawling in attics or spelunking in crawl spaces to find where wires are routed. It also requires the ability to solve complex problems that could arise from issues like outdated circuits, faulty switches, and improper grounding.
There are several different levels of licensure that a residential electrician can obtain, depending on their state's requirements. To become a licensed journeyman electrician, for example, in Alaska, you must complete an approved residential apprenticeship program or have 8,000 hours of job experience in the field of electrical maintenance. Up to 1,000 of those hours can be in a technical program.
If you want to become a master electrician, you must have at least 6,000 hours of experience under the supervision of a master electrician. This is a minimum requirement, but some states have higher requirements, and you may also be required to take an exam and provide references.
Getting a license as a master electrician requires completing an approved residential apprenticeship program or having 16,000 hours of experience working on single and two-family residences. You must also pass an exam and submit a criminal background check. Applicants are required to have liability insurance.
Licensing
As with any job, there are a few things to consider before pursuing a career as an electrician. First, you'll need a high school diploma or GED certificate. Then, you can either attend a trade school or enter an apprenticeship program. After a few years of training, you can become a journeyman electrician. You'll need 8,000 hours of on-the-job experience to become a master electrician.
A residential electrician operates in homes, as their name suggests. They run romex wires through plastic boxes that are nailed to studs, and they use single-phase power sources (120 or 240 volts). They also install lighting, outlets, switches, and smoke alarms. In contrast, commercial electricians work in stores and workplaces. They use three-phase wiring, and the cables have thicker insulation and sheathing to handle higher loads.
There are different types of licensing requirements depending on where you live and the type of work that you do. For example, you must have a license to do commercial or residential work. In other states, you may only need a permit for large projects. A licensed electrician will have extensive knowledge of the electrical code as well as the ability to read blueprints.
Apprentices train under an experienced professional for a few years before becoming journeymen electricians. Journeymen are considered competent in their field, and they can usually perform most of the tasks of a master electrician. They can supervise other electricians and apprentices, but they must still follow the code and the safety rules of their trade.
To qualify for a residential master electrician license, you need to have three years of experience working on one- and two-family dwellings. You also need a minimum of 8,000 hours of work as a licensed residential journeyman. In addition, you must pass an exam. The license allows you to work on both commercial and residential projects. In some states, you can substitute apprentice courses for the work experience requirement.
Experience
Residential electricians typically work on projects in people's homes. This could include replacing outlets or lighting fixtures, installing new wiring, or troubleshooting electrical problems. They also upgrade outdated electrical panels and use hand and power tools like wire strippers, pliers, and a voltmeter to perform their jobs.
Electricians can choose to specialize in either residential or commercial work. However, each type of specialization requires different skill sets and has a different earning potential. For example, if you want to become a commercial electrician, you will need to have experience with higher-voltage systems and commercial wiring requirements. In addition, you must pass an exam to become a licensed journeyman electrician.
If you are a residential electrician, you can start your career by working in construction to learn how to install electrical wiring and components for new buildings. Once you have acquired the necessary skills, you can move on to repairing and updating electrical systems in existing homes and apartments. You should also consider obtaining an apprenticeship to gain valuable hands-on experience.
Unlike commercial electricians, who may work in office buildings and other large-scale businesses, residential electricians usually operate in private homes. This means that you will need to be comfortable in a home setting and interact with clients in a personal manner.
It's also important for residential electricians to have a good understanding of how to read blueprints and electrical plans. This will help them determine where outlets and switches should be placed and what type of lights are best for a room. Additionally, residential electricians should be able to communicate with nonelectrical construction workers to ensure that all projects are completed safely and on schedule.
When choosing a residential electrician, look for one with years of experience in the industry. This will give you confidence that they can handle any job that comes their way. Also, ask about their customer satisfaction rating and whether they have a good reputation in the community.
When selecting a residential electrician, make sure that they are licensed by the state and are insured and bonded. This will protect you from any damage or fraud that may occur during the course of a project.
Communication
The ability to communicate is an important skill for electricians. They work with a wide range of people, including architects, contractors, managers, and crews, so it's important that they can convey their ideas clearly. They also need to be able to read and understand written materials. Good communication skills can help ensure that everyone is on the same page and that safety protocols are followed.
Residential electricians must be able to explain complex electrical issues in a way that is easy for laypeople to understand. This is especially important for homeowners, who may not have any prior knowledge of electrical wiring or systems. Being able to answer questions clearly and concisely will also help to build trust with customers and increase the likelihood of repeat business.
Depending on the type of job, residential electricians must be familiar with a variety of tools and equipment. They may need to use different types of wire, conduit, and switches for commercial and residential buildings. They should also be able to distinguish between different types of outlets and switches, as well as read blueprints and electrical plans.
Electricians need to be able to work as part of a team to complete jobs on time and within budget. This requires excellent communication skills and a willingness to learn from other members of the team. They also need to be able to work under pressure and remain calm in stressful situations.
While hard skills are important, soft skills are equally valuable for electricians. These skills include troubleshooting, teamwork and collaboration, physical abilities, communication skills, and customer service skills. These skills can help you get ahead in your career and make a difference in the lives of the people you serve.
As a residential electrician, you'll need to have strong attention to detail and the ability to remain focused on tasks for long periods of time. In addition, you'll need to have excellent physical stamina, as this job often involves standing, crouching, and climbing ladders. Finally, it's important to be able to work safely with electricity, so you should be familiar with proper safety procedures and have a strong sense of personal responsibility.